Hair products factory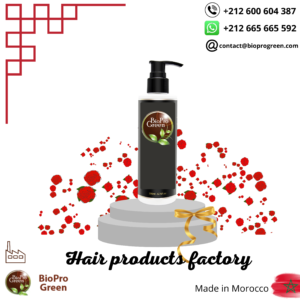 Introduction
The Bioprogreen hair product factory plays a pivotal role in delivering high-quality hair care products. In this article, we will explore the factory's commitment to quality through prestigious labels, its reputable image, and its evolution over time to meet the changing demands of the hair care industry.
Quality Labels of Bioprogreen Hair Product Factory
The Bioprogreen hair product factory holds various quality labels that validate its dedication to excellence. These labels provide assurance to consumers and professionals alike, affirming the quality and effectiveness of the products. Some of the prominent quality labels include:
Organic Certification: The factory is certified by recognized organic certification bodies, ensuring that the ingredients used in the production of Bioprogreen hair care products are organic and free from harmful chemicals. This certification attests to the factory's commitment to providing natural and safe products.
Cruelty-Free: The factory proudly adheres to cruelty-free practices, ensuring that none of its products are tested on animals. This label reinforces the factory's ethical stance and its commitment to the well-being of animals.
Image of the Bioprogreen Hair Product Factory
The Bioprogreen hair product factory has built a reputable image in the hair care industry. Its commitment to quality, innovation, and environmental responsibility has earned it the trust and loyalty of consumers and professionals. The factory's dedication to using natural and organic ingredients, along with its eco-friendly practices, has positioned it as a responsible and sustainable player in the market.
Evolution of the Bioprogreen Hair Product Factory
The Bioprogreen hair product factory has evolved over time to meet the evolving needs and preferences of consumers. Its evolution can be seen in several areas:
Research and Development: The factory invests in continuous research and development to enhance its product formulations. It stays updated with the latest scientific advancements and incorporates them into its production processes. This commitment to innovation allows the factory to develop cutting-edge hair care solutions that deliver exceptional results.

Sustainable Practices: The factory has embraced sustainable practices to minimize its environmental impact. It prioritizes the use of renewable energy sources, implements recycling programs, and adopts eco-friendly packaging materials. The factory strives to reduce waste, conserve resources, and promote environmental stewardship.
Conclusion
The Bioprogreen hair product factory's dedication to quality, its reputable image, and its evolution over time have established it as a leader in the hair care industry. With prestigious quality labels, it ensures that consumers can trust the integrity and effectiveness of its products. As the factory continues to innovate and embrace sustainable practices, it remains committed to providing high-quality hair care solutions that prioritize the well-being of both individuals and the environment.
FAQ
1) How can I get samples?
To get samples of our products, just contact us and we will be happy to offer you some. For new customers, courier costs will be charged, but samples will be free. In addition, these costs will be deducted from the official order payment. To arrange an RPI (remote pickup) service on FedEx, UPS, DHL, TNT, etc., please contact us and we will help you arrange this.
2) How does your factory perform in terms of quality control?
In our factory, quality is our top priority. We have strict quality controls in place at every stage of the manufacturing process to ensure that all our products are environmentally friendly and meet the highest standards. In addition, all workers are trained to ensure quality control, whether in the stamping, printing, sewing, or packaging process. Finally, our quality control department is specifically responsible for quality control in each process.
3) Can your factory print or emboss my logo on the goods?
We are happy to personalize our products with your logo or other distinctive marks. We can print your logo on the goods or their packaging box, depending on your needs. For patent protection reasons, we usually require a letter of permission for the logo, but we can also produce the goods based on customer samples or on the image, logo, sizes, etc. Contact us for more information on customizing our products.
 N°200 Lot Al Massar, Z.I Sidi Ghanem,  Route de Safi, 40 000 Marrakech , MOROCCO
Tel:+212 524 335 449
MOB:+212 600 604 387 (Whatsapp / Viber)
Fax:+212 524 457 961
Website: www.bioprogreen.com
E-mail: contact@bioprogreen.com
Follow the US:

 http://facebook.com/bioprogreen
 https://www.instagram.com/bioprogreenmorocco
https://www.youtube.com/@bioprogreenmorocco4708