Haircare dispenser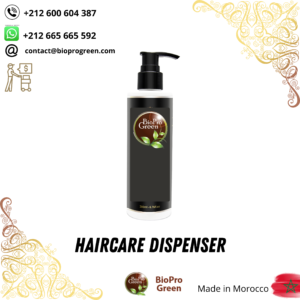 Introduction
Haircare dispenser play a crucial role in the convenient and efficient distribution of hair care products. In this article, we will explore the benefits of hair care dispensers, their evolution over time, and the quality labels associated with Bioprogreen's dispensers, ensuring the highest standards of quality and sustainability.
Benefits of Hair Care Dispensers
Accurate Dispensing: Hair care dispensers ensure precise and controlled product distribution, eliminating waste and maximizing the longevity of each product. They provide the right amount of product for optimal use, preventing overuse and unnecessary product depletion.

Convenience and Hygiene: Dispensers offer a hygienic and mess-free solution for hair care routines. They eliminate the need for excessive handling of product containers, minimizing the risk of contamination and maintaining a clean and organized environment.

Sustainability and Eco-Friendliness: Hair care dispensers contribute to sustainability efforts by reducing packaging waste. With refillable options, they promote the reuse of containers, minimizing plastic consumption and supporting a greener future.
Evolution of Hair Care Dispensers
Hair care dispensers have evolved to meet the evolving needs and preferences of consumers. Some notable advancements include:
Design and Functionality: Dispensers now feature user-friendly designs with easy-to-use pumps, ensuring effortless and efficient product dispensing. They are ergonomically designed for a comfortable grip, facilitating hassle-free application.

Refillable Options: In response to growing environmental concerns, hair care dispensers now often come with refillable options. These allow users to replenish their products without the need for new containers, reducing plastic waste and promoting sustainability.
Quality Labels and Sustainability
Bioprogreen's commitment to quality and sustainability is reflected in the quality labels associated with its hair care dispensers. Some of the labels include:
Eco-Friendly: Dispensers bearing this label indicate that they are manufactured using environmentally friendly materials and processes, aligning with Bioprogreen's sustainability goals.

Recyclable: Dispensers labeled as recyclable highlight their ability to be recycled at the end of their lifecycle, minimizing their impact on the environment.
Conclusion
Hair care dispensers offer numerous benefits, including precise product distribution, convenience, hygiene, and sustainability. As they continue to evolve, they provide users with improved functionality and eco-friendly options. Bioprogreen's commitment to quality and sustainability is reinforced through the quality labels associated with its dispensers, ensuring that customers have access to hair care solutions that prioritize their well-being and the health of the planet. Embrace the convenience and eco-friendliness of hair care dispensers, and join Bioprogreen on its journey towards a greener future.
FAQ
1) How can I get samples?
To get samples of our products, just contact us and we will be happy to offer you some. For new customers, courier costs will be charged, but samples will be free. In addition, these costs will be deducted from the official order payment. To arrange an RPI (remote pickup) service on FedEx, UPS, DHL, TNT, etc., please contact us and we will help you arrange this.
2) How does your factory perform in terms of quality control?
In our factory, quality is our top priority. We have strict quality controls in place at every stage of the manufacturing process to ensure that all our products are environmentally friendly and meet the highest standards. In addition, all workers are trained to ensure quality control, whether in the stamping, printing, sewing, or packaging process. Finally, our quality control department is specifically responsible for quality control in each process.
3) Can your factory print or emboss my logo on the goods?
We are happy to personalize our products with your logo or other distinctive marks. We can print your logo on the goods or their packaging box, depending on your needs. For patent protection reasons, we usually require a letter of permission for the logo, but we can also produce the goods based on customer samples or on the image, logo, sizes, etc. Contact us for more information on customizing our products.
 N°200 Lot Al Massar, Z.I Sidi Ghanem,  Route de Safi, 40 000 Marrakech , MOROCCO
Tel:+212 524 335 449
MOB:+212 600 604 387 (Whatsapp / Viber)
Fax:+212 524 457 961
Website: www.bioprogreen.com
E-mail: contact@bioprogreen.com
Follow the US:

 http://facebook.com/bioprogreen
 https://www.instagram.com/bioprogreenmorocco
https://www.youtube.com/@bioprogreenmorocco4708