Leading Macadamia Oil Company and Global Exporter Unveiling the Excellence of Macadamia Oil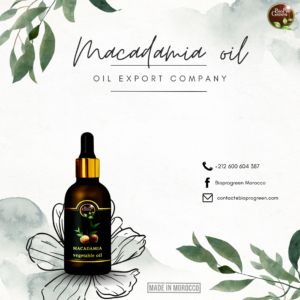 In the realm of macadamia oil production and export, BioProGreen stands out as a leading company dedicated to delivering excellence. This article will explore the world of macadamia oil, highlighting the expertise of BioProGreen and their commitment to exporting high-quality macadamia oil globally.
Macadamia Oil:
Macadamia oil, derived from the nuts of the Macadamia integrifolia tree, is renowned for its exceptional properties and versatility. With its unique composition, macadamia oil has gained recognition in various industries, including culinary, skincare, and cosmetics. BioProGreen recognizes the immense value of macadamia oil and is dedicated to maintaining the highest standards in its production and export.
BioProGreen: Exporting Excellence
The company BioProGreen has established itself as a trusted name in the global export of macadamia oil, maintaining the highest standards throughout the process. Here's how BioProGreen ensures excellence:
Sustainable Sourcing: BioProGreen prioritizes sustainable sourcing methods, working closely with local farmers to ensure the cultivation of high-quality macadamia nuts. By supporting fair trade practices and environmentally friendly approaches, the company contributes to the well-being of local communities and the preservation of natural resources.

State-of-the-Art Facilities: BioProGreen's advanced production facilities employ cutting-edge technology to extract macadamia oil while preserving its natural goodness. Stringent quality control measures are in place to ensure that only the finest macadamia oil reaches customers worldwide.

Global Distribution: BioProGreen's extensive distribution network enables them to export their premium macadamia oil to customers around the globe. Their commitment to timely delivery and customer satisfaction has earned them a reputation as a reliable supplier of high-quality macadamia oil.
BioProGreen's commitment to excellence ensures that customers receive the finest macadamia oil for their culinary, skincare, and cosmetic needs.
To conclude, BioProGreen's dedication to producing and exporting high-quality macadamia oil has solidified its position as a leading company in the industry. Macadamia oil's exceptional qualities and versatility make it a prized asset in the culinary, skincare, and cosmetic.
FAQ
1) How can I get samples?
To get samples of our products, just contact us and we will be happy to offer you some. For new customers, courier costs will be charged, but samples will be free. In addition, these costs will be deducted from the official order payment. To arrange an RPI (remote pickup) service on FedEx, UPS, DHL, TNT, etc., please contact us and we will help you arrange this.
2) How does your factory perform in terms of quality control?
In our factory, quality is our top priority. We have strict quality controls in place at every stage of the manufacturing process to ensure that all our products are environmentally friendly and meet the highest standards. In addition, all workers are trained to ensure quality control, whether in the stamping, printing, sewing, or packaging process. Finally, our quality control department is specifically responsible for quality control in each process.
3) Can your factory print or emboss my logo on the goods?
We are happy to personalize our products with your logo or other distinctive marks. We can print your logo on the goods or their packaging box, depending on your needs. For patent protection reasons, we usually require a letter of permission for the logo, but we can also produce the goods based on customer samples or on the image, logo, sizes, etc. Contact us for more information on customizing our products.
 N°200 Lot Al Massar, Z.I Sidi Ghanem,  Route de Safi, 40 000 Marrakech , MOROCCO
Tel:+212 524 335 449
MOB:+212 600 604 387 (Whatsapp / Viber)
Fax:+212 524 457 961
Website: www.bioprogreen.com
E-mail: contact@bioprogreen.com
Follow the US:

 http://facebook.com/bioprogreen
 https://www.instagram.com/bioprogreenmorocco
https://www.youtube.com/@bioprogreenmorocco4708