Moroccan Macadamia Oil Manufacturers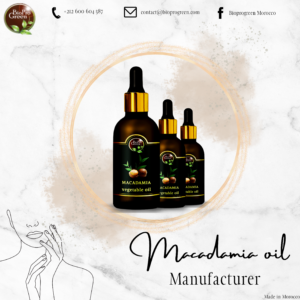 Morocco boasts a vibrant macadamia oil industry, with numerous manufacturers playing a pivotal role in its growth and success. Their story exemplifies the journey of local manufacturers, highlighting their dedication, innovation, and success in the production of macadamia oil.
The History of Moroccan Macadamia Oil Manufacturers
:
The emergence of macadamia oil manufacturing in Morocco can be traced back to the vision and entrepreneurial spirit of local pioneers. Over the years, these manufacturers have made significant strides, evolving from small-scale operations to reputable industry leaders. Their journey has been marked by innovation, perseverance, and a deep understanding of the macadamia oil market.
BioProGreen's Rise to Success
:
Here are key factors that have contributed to their accomplishments:
Commitment to Excellence: BioProGreen's unwavering commitment to excellence has been a driving force behind their success. From the meticulous selection of macadamia nuts to the implementation of advanced production techniques, they ensure the highest quality standards are met at every step.

Research and Development: BioProGreen invests in research and development to stay at the forefront of macadamia oil production. They continuously explore innovative methods and techniques to improve the extraction process.

Sustainable Practices: BioProGreen's success is rooted in their sustainable practices. They prioritize environmental stewardship, emphasizing responsible water usage, waste reduction, and organic cultivation methods. These practices not only contribute to the long-term viability of macadamia oil production but also position BioProGreen as a leader in sustainable manufacturing.

Market Expansion: Through strategic partnerships and a customer-centric approach, BioProGreen has successfully expanded its market reach. Their commitment to meeting customer needs, offering tailored solutions, and providing superior products has earned them a loyal client base both domestically and internationally.
Industry Recognition and Awards: BioProGreen's success has garnered industry recognition and accolades. Their dedication to excellence and their contributions to the macadamia oil sector have been acknowledged through prestigious awards and certifications. Through ongoing innovation, dedication to sustainability, and a commitment to customer satisfaction, Moroccan macadamia oil manufacturers are well-positioned for continued success.
To conclude
Moroccan macadamia oil manufacturers, including BioProGreen, have made remarkable strides in the industry, driven by their passion for excellence, innovation, and sustainability. Their success is a testament to the rich history and bright future of the Moroccan macadamia oil sector. Through their exceptional products and commitment to customer satisfaction, these manufacturers continue to elevate the reputation of Moroccan macadamia oil on the global stage.
FAQ
1) How can I get samples?
To get samples of our products, just contact us and we will be happy to offer you some. For new customers, courier costs will be charged, but samples will be free. In addition, these costs will be deducted from the official order payment. To arrange an RPI (remote pickup) service on FedEx, UPS, DHL, TNT, etc., please contact us and we will help you arrange this.
2) How does your factory perform in terms of quality control?
In our factory, quality is our top priority. We have strict quality controls in place at every stage of the manufacturing process to ensure that all our products are environmentally friendly and meet the highest standards. In addition, all workers are trained to ensure quality control, whether in the stamping, printing, sewing, or packaging process. Finally, our quality control department is specifically responsible for quality control in each process.
3) Can your factory print or emboss my logo on the goods?
We are happy to personalize our products with your logo or other distinctive marks. We can print your logo on the goods or their packaging box, depending on your needs. For patent protection reasons, we usually require a letter of permission for the logo, but we can also produce the goods based on customer samples or on the image, logo, sizes, etc. Contact us for more information on customizing our products.
 N°200 Lot Al Massar, Z.I Sidi Ghanem,  Route de Safi, 40 000 Marrakech , MOROCCO
Tel:+212 524 335 449
MOB:+212 600 604 387 (Whatsapp / Viber)
Fax:+212 524 457 961
Website: www.bioprogreen.com
E-mail: contact@bioprogreen.com
Follow the US:

 http://facebook.com/bioprogreen
 https://www.instagram.com/bioprogreenmorocco
https://www.youtube.com/@bioprogreenmorocco4708