Orange Blossom Water made in Morocco made by the best Moroccan BioProgreen Argan wholesaler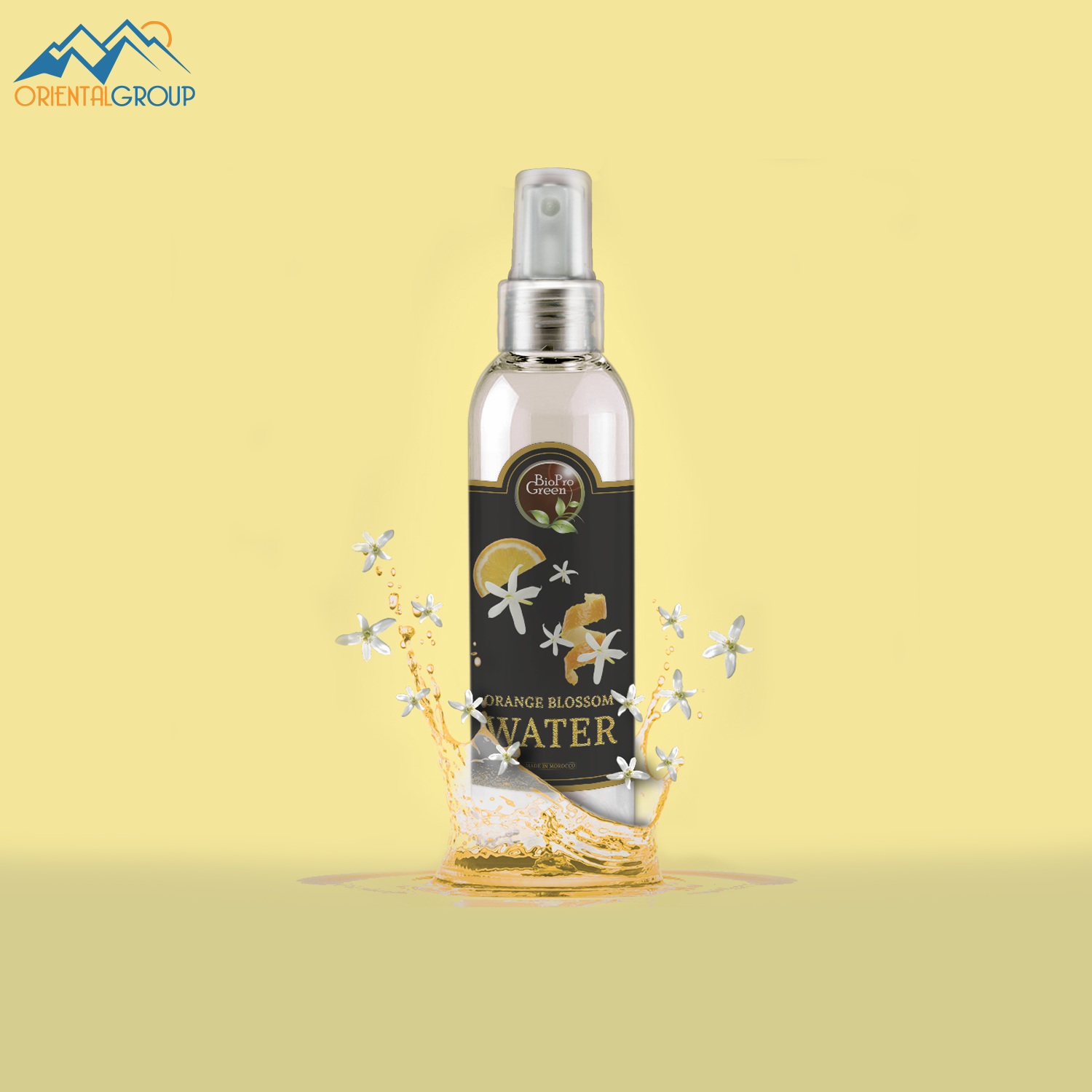 Enjoy visible improvements in skin tone, texture, and color with our distilled orange blossom water which contains an all-natural cocktail of vitamins, antioxidants, and protective nutrients. Firstly to revitalize, refresh and restore your skin's natural pH balance. Secondly locking in essential moisture, and delivering a plump, radiant, and ultra-soft complexion. So our orange blossom water instantly hydrates and soothes parched pores. And this lightweight and versatile orange blossom water work wonders at treating dry, sensitive, oily, and acne-prone skin.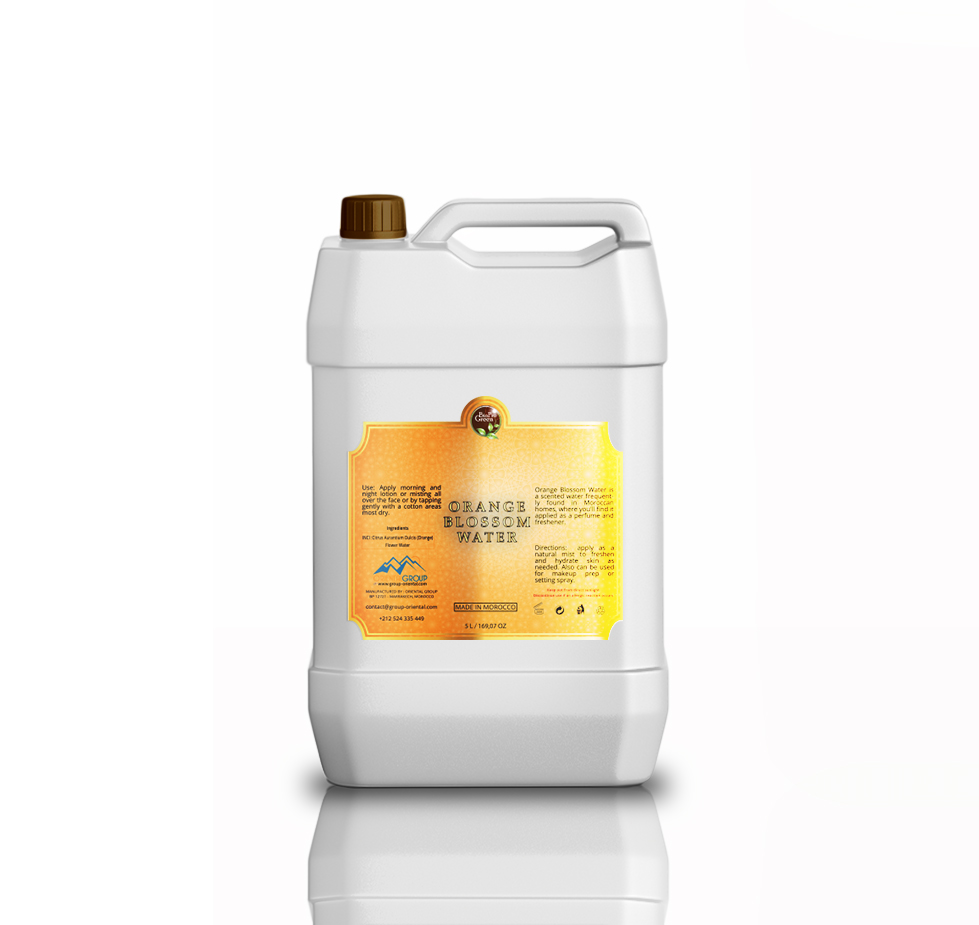 What is orange blossom?
In this paragraph, it was originally in India on the bitter orange that the orange blossom buds. Nowadays, this scented flower, introduced in the Mediterranean area is very much enjoyed to flavor dishes, and deserts as well as cosmetics in lotions. Firstly bitter orange is a thorny tree that can measure up to 14 centimeters. Its flowers are commonly known for their strong scent but also their rose-colored or white hues. Secondly, the blooming period differs according to geographical areas and starting in early February in Northern Africa and April in the Mediterranean areas. Thirdly, orange bitter belongs to the Rutaceae family and can live up to 600 years! The bitter orange enjoys warm climates and tropical regions and can survive frost.
Composition:
The orange blossom's benefits come from the very composition and its components: Vitamin C, flavonoids, aromatic molecules, carotene, terpinols, essential oils but also bitter components, terpenes, and alcohol.
 Benefits:
The orange blossom's benefits are numerous:
They can help reduce anxiety and sleeping problems
Appears that they have a positive impact on headaches and menstrual pains.
Appears that they can assist in improving digestion
In cosmetics, it appears to have positive results on hydrating the skin and hair
In Conclusion, the orange blossom, also called "Essence of Neroli", named after the town of Nerola, comes from the bitter orange and used as well in cosmetics, as in cooking for its many benefits.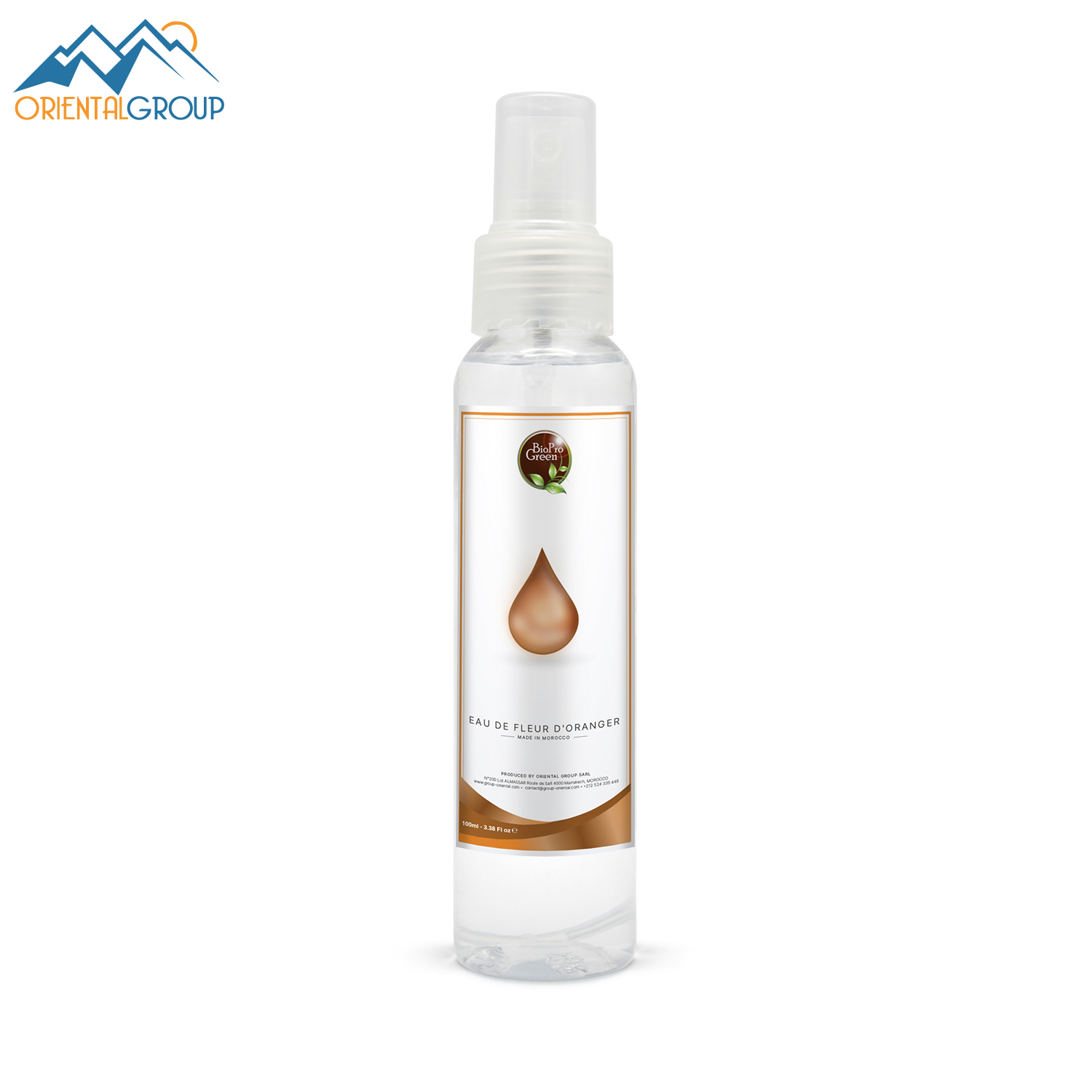 Min. Order Quantity of orange blossom water: 5 Liter
Supply Ability: 1000 Liter/Liters per Week
Port: FOB Casablanca /Tanger MED / Agadir
Payment Terms: L/C,T/T, ,Western Union,MoneyGram/Paypal
Certification: MSDS, CCPB /NOP USDA PROGRAM
Oriental Group
N°200 Lot Elmassar,Sidi Ghanem Industrial Estate
Route de Safi,
40 000 Marrakech,
MOROCCO
Tel: +212664511967
MOB : +212600604387
Contact Us:
Website: https://www.bioprogreen.com/en/
Facebook: https://www.facebook.com/bioprogreenMorocco
Twitter: https://twitter.com/BioProGreen_MR
Pinterest: https://www.pinterest.fr/bioprogreenmorocco/
Instagram: https://www.instagram.com/bioprogreenmorocco/