Perfume on Amazon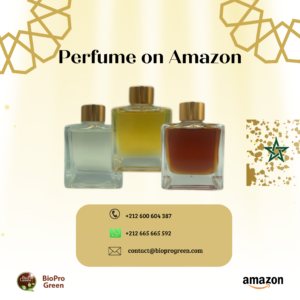 Advantages of Selling Perfumes on Amazon:
Selling perfumes on Amazon offers numerous advantages for both sellers and consumers. Amazon provides a vast online marketplace with a global customer base, allowing sellers to reach customers from around the world and expand their market. By listing perfumes on Amazon, sellers benefit from the platform's search and recommendation algorithms, which expose their products to a wide audience. With effective product listing optimization, sellers can improve visibility in search results and gain increased exposure to potential customers. Amazon is known for its reliable customer service and secure payment system, instilling confidence in consumers when purchasing perfumes. Amazon Prime also offers fast and convenient shipping options, enhancing the overall customer experience.
Opportunities for Sellers on Amazon:
Distributing perfumes on Amazon presents several opportunities for sellers. The platform's large customer base and global reach enable sellers to increase sales volumes. Effective marketing strategies, combined with Amazon's extensive reach, can attract new customers and drive sales growth. Amazon provides sellers with tools to build their brand presence and reputation. Leveraging customer reviews, optimizing product listings, and utilizing Amazon's advertising features can enhance brand visibility and credibility within the fragrance market. Additionally, Amazon offers fulfillment services, such as FBA (Fulfillment by Amazon), allowing sellers to store their inventory in Amazon's fulfillment centers. This streamlines order processing, packing, and shipping, freeing up time for sellers to focus on other aspects of their business.
Process of Selling Perfumes on Amazon:
Selling perfumes on Amazon involves the following steps: Sellers start by creating an Amazon seller account and providing the necessary business and product information. Detailed product listings are created, including product titles, descriptions, images, pricing, and inventory quantities. It is crucial to optimize these listings with relevant keywords and compelling content to attract potential customers. Sellers must ensure they have sufficient perfume inventory to meet customer demand. With Amazon's inventory management tools, sellers can monitor stock levels and replenish inventory as needed. Sellers can fulfill orders themselves or utilize Amazon's fulfillment services. If using FBA, sellers ship their perfumes to Amazon's fulfillment centers, and Amazon handles the packing, shipping, and customer service aspects of the orders. Maintaining excellent customer service is crucial on Amazon. Sellers should promptly respond to customer inquiries, address any issues or concerns, and actively manage customer feedback and reviews to build trust and reputation.
FAQ
1) How can I get samples?
To get samples of our products, just contact us and we will be happy to offer you some. For new customers, courier costs will be charged, but samples will be free. In addition, these costs will be deducted from the official order payment. To arrange an RPI (remote pickup) service on FedEx, UPS, DHL, TNT, etc., please contact us and we will help you arrange this.
2) How does your factory perform in terms of quality control?
In our factory, quality is our top priority. We have strict quality controls in place at every stage of the manufacturing process to ensure that all our products are environmentally friendly and meet the highest standards. In addition, all workers are trained to ensure quality control, whether in the stamping, printing, sewing, or packaging process. Finally, our quality control department is specifically responsible for quality control in each process.
3) Can your factory print or emboss my logo on the goods?
We are happy to personalize our products with your logo or other distinctive marks. We can print your logo on the goods or their packaging box, depending on your needs. For patent protection reasons, we usually require a letter of permission for the logo, but we can also produce the goods based on customer samples or on the image, logo, sizes, etc. Contact us for more information on customizing our products.
 N°200 Lot Al Massar, Z.I Sidi Ghanem,  Route de Safi, 40 000 Marrakech , MOROCCO
Tel:+212 524 335 449
MOB:+212 600 604 387 (Whatsapp / Viber)
Fax:+212 524 457 961
Website: www.bioprogreen.com
E-mail: contact@www.bioprogreen.com
Follow the US:

 http://facebook.com/bioprogreen
 https://www.instagram.com/bioprogreenmorocco
https://www.youtube.com/@bioprogreenmorocco4708