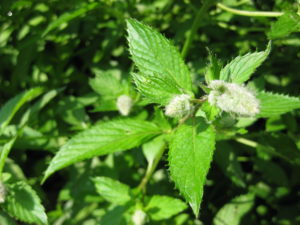 Due to its richness in menthol, Peppermint Essential Oil has a highly refreshing action and remarkable analgesic properties, which give it a place as the first choice in the first aid kit for families or athletes: Peppermint is indeed an essential oil essential during shocks, blows or painful stings. It is also used to relieve headaches and migraines, improve digestion, unclog the nose, counter nausea and fight bad breath.
Whatever the use of Peppermint Essential Oil, it is preferable to dilute it in vegetable oil to limit the risk of skin irritation, reduce the smell which can be heady, and avoid an excessive cold effect.
History of Peppermint Essential Oil
Peppermint is a hybrid plant, that is to say, the result of a cross between water mint and another species of mint. Its origin dates back to ancient times: it would probably have emerged in a vast region encompassing northern Africa, the Mediterranean basin, and western Asia. The Egyptians, Hebrews, and ancient Greeks already knew it and used it for its therapeutic properties.
Today, like spearmint, peppermint is grown on a large scale, but other more marginal varieties such as pineapple mint or lemon mint (Bergamot) are also enjoying some success.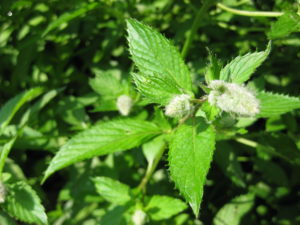 Properties of Peppermint Essential Oil
When to use Peppermint Essential Oil?
-Pain relieved by cold (trauma, blows, bruises, sprains, strains, punctures)
-Migraines and headaches
-Nausea, motion sickness
-Digestive disorders (spasms, dyspepsia, bloating, irritable bowel, colitis, bad breath)
-Heavy or swollen legs
-Concentration, fatigue
Pain and itching
Menthol gives Peppermint Essential Oil great pain-relieving and anti-inflammatory properties. Just like the cold, menthol indeed activates the thermal receptors of the skin, which leads to deep analgesia (relief of pain). The Thermo receptors implicated are the TRPM8 receptors sensitive to cold temperatures and involved in the processes of inflammation, pain, and itching (pruritus). This analgesic (anti-pain) property has been verified experimentally on a model of chronic neuropathic pain.
As soon as there is pain, redness, heat, or itching (pruritus), Peppermint Essential Oil will relieve you.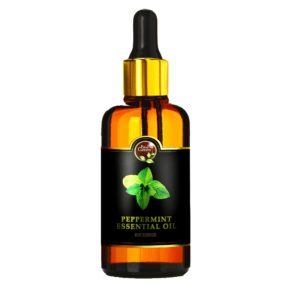 Headaches and migraines
Whatever the origin of the headaches (hepatic, vascular, infectious origin), Peppermint Essential Oil can reduce or even relieve pain.
In the case of migraines and headaches, the essential oil of Peppermint is used in the local application (ideally diluted, max 10%), on the areas of the forehead, the temples, and the sinuses. After application, massage these areas insistently with your fingertips, ideally on acupuncture points.
Digestive disorders
With regard to digestive disorders, peppermint first of all promotes gastric emptying: the stomach empties more quickly, which relieves the feelings of distension of the stomach and can be useful in case of gastric sourness.
Added to this are spasmolytic, anti-inflammatory, and carminative (anti-flatulence) properties which give Peppermint a clinically proven action on several digestive ailments such as:
Irritable bowel syndrome

Intestinal spasms

Functional dyspepsia (digestive disorders which are generally manifested by pain in the stomach, and bloating)

Inflammatory bowel pain: in combination with caraway essential oil

Peppermint Essential Oil is also useful for managing nausea.
It also has an action on the gallbladder: Peppermint Essential Oil, due to its choleretic properties and its relaxing action on the sphincters, will also be of interest in cases of biliary insufficiency.
ENT disorders
We must consider on the one hand the action of menthol which allows a relaxation of the respiratory tracts when they are contracted, on the other hand the anti-inflammatory, mucolytic and refreshing properties of Peppermint, and we obtain a remarkable essential oil to relieve ENT ailments, in synergy with other anti-infectious essential oils of course.
Other indications
Decreased vigilance and emotional shock
Peppermint Essential Oil will give you a "boost" in case of:
Mental and physical fatigue, driving, loss of concentration

Stage fright, anxiety, chest tightness, intense fear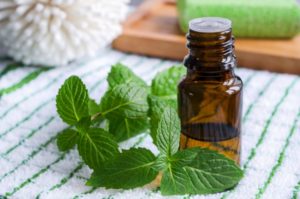 Branding and Package Design of Peppermint Essential Oil
Oriental Group provides a complete branding service for clients wishing to penetrate their domestic markets using their very own Essential Oil Wholesale.
Bottling
We have many varieties of bottles and containers at our disposal, of course the client may supply their own, or can send us a sample for us to mass produce.
Labeling
The client can supply their own label or have one produced for them by our team of designers, we can design exactly to your specifications.
Casing
We can supply casing solutions to meet any specifications ranging from customized design cases, case printed designs and other custom requirements.
Please contact us with your requirements.
Further, you may please note that we have the strengths and capabilities to deliver international-quality of Essential Oil. Our additional strength to day is excellent logistic control system, which facilitates faster order processing and shipment. We have even automatized most of the production chain to ensure faster production and accuracy.
FAQ Peppermint Essential Oil:
How can I get some samples?
We are honored to offer you samples. New clients are expected to pay for the courier cost, the samples are free for you, and this charge will be deducted from the payment for the formal order.
Regarding the courier cost: You can arrange an RPI (remote pick-up) service with FedEx, UPS, DHL, TNT, etc. To have the samples collected, or inform us of your DHL collection account. Then you can pay the freight direct to your local carrier company.
What does your Peppermint Essential Oil do regarding quality control?
Quality is a priority! Every worker keeps the QC from the very beginning to the very end:
All raw materials we used are environmental-friendly.
Skillful workers care about every detail in handling the stamping, printing, stitching, and packing process.
Quality control department is specially responsible for quality checking in each process.
Can your factory print or emboss my logo on the goods?
Yes, we can print your logo on the goods or their packing box, for patent protection purposes, a letter of attorney (letter of authorization) shall be provided for the logo.
We usually produce goods based on customers' samples or based on customers' pictures, logos, sizes, etc. detail information design for customers.
Company Information:
Oriental Group
N°200 Lot Elmassar, Z.I Sidi Ghanem
Route de Safi
40 000 Marrakech
MOROCCO
Tel: +212 524 335 449
MOB: +212 600 604 387 (Whatsapp / Viber)
Fax: +212 524 457 961
Website: https://www.bioprogreen.com/
E-mail : contact@group-oriental.com
FOLLOW US:
http://facebook.com/grouporiental
http://twitter.com/grouporiental