BioProGreen: Pioneering Macadamia Oil Company in Morocco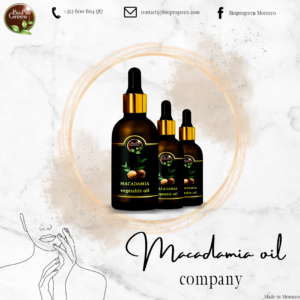 In the diverse landscape of Morocco's agricultural industry, BioProGreen has emerged as a pioneering company specializing in macadamia oil production. This article will delve into the world of macadamia oil, highlighting BioProGreen's expertise and their dedication to delivering high-quality macadamia oil in Morocc
Macadamia Oil:  derived from the nuts of the Macadamia integrifolia tree, is renowned for its distinct characteristics and exceptional composition. With its pale-yellow color, delicate flavor, and remarkable nutritional profile, macadamia oil has found its place in the culinary world, as well as in the skincare and cosmetic industries. BioProGreen recognizes the immense potential of macadamia oil and is committed to harnessing its benefits for consumers in Morocco.
Utilization of Macadamia Oil
Culinary Applications: Macadamia oil is a versatile cooking oil that enhances the flavors of various dishes. Its delicate taste makes it ideal for salad dressings, marinades, and sauces. The oil's high smoke point allows for cooking at higher temperatures, making it suitable for sautéing, stir-frying, and baking.

Skincare and Cosmetics: Macadamia oil's unique composition makes it an excellent ingredient in skincare and cosmetic products. Its lightweight texture allows for easy absorption, providing deep hydration and nourishment to the skin. Rich in antioxidants, vitamins, and omega-7 fatty acids, macadamia oil helps rejuvenate the skin, reduce inflammation, and promote a youthful appearance.

Hair Care: Macadamia oil's moisturizing and nourishing properties extend to hair care products. It helps strengthen the hair, prevent breakage, and add shine and luster. Macadamia oil is often used in shampoos, conditioners, and hair treatments to promote healthy and vibrant hair.
The company BioProGreen understands the significance of macadamia oil's unique qualities, which set it apart from other vegetable oils
BioProGreen: Delivering Excellence
BioProGreen has established itself as a leading macadamia oil company in Morocco, focusing on sustainable practices and ensuring the highest quality products. The company's commitment to excellence is reflected in their sourcing methods, production processes, and quality control measures. By collaborating with local farmers and employing advanced extraction techniques, BioProGreen ensures that their macadamia oil retains its natural goodness and superior quality
FAQ
1) How can I get samples?
To get samples of our products, just contact us and we will be happy to offer you some. For new customers, courier costs will be charged, but samples will be free. In addition, these costs will be deducted from the official order payment. To arrange an RPI (remote pickup) service on FedEx, UPS, DHL, TNT, etc., please contact us and we will help you arrange this.
2) How does your factory perform in terms of quality control?
In our factory, quality is our top priority. We have strict quality controls in place at every stage of the manufacturing process to ensure that all our products are environmentally friendly and meet the highest standards. In addition, all workers are trained to ensure quality control, whether in the stamping, printing, sewing, or packaging process. Finally, our quality control department is specifically responsible for quality control in each process.
3) Can your factory print or emboss my logo on the goods?
We are happy to personalize our products with your logo or other distinctive marks. We can print your logo on the goods or their packaging box, depending on your needs. For patent protection reasons, we usually require a letter of permission for the logo, but we can also produce the goods based on customer samples or on the image, logo, sizes, etc. Contact us for more information on customizing our products.
 N°200 Lot Al Massar, Z.I Sidi Ghanem,  Route de Safi, 40 000 Marrakech , MOROCCO
Tel:+212 524 335 449
MOB:+212 600 604 387 (Whatsapp / Viber)
Fax:+212 524 457 961
Website: www.bioprogreen.com
E-mail: contact@bioprogreen.com
Follow the US:

 http://facebook.com/bioprogreen
 https://www.instagram.com/bioprogreenmorocco
https://www.youtube.com/@bioprogreenmorocco4708