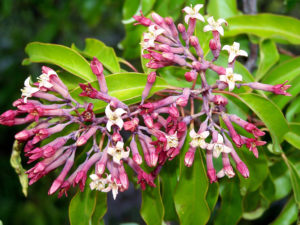 Sandalwood Essential Oil is a name that is now used to designate different essential oils: White Sandalwood (Santalum album), Yellow Sandalwood (Santalum austrocaledonicum), and Amyris Sandalwood (Amyris balsamifera). Nevertheless, in aromatherapy books, this name generally refers to the essential oil of White Sandalwood. Renowned for its characteristic smell, the latter can be used to fight against anxiety, stress, circulatory disorders, various infections, and several skin problems.
This sheet on Sandalwood Essential Oil presents its therapeutic properties, its main indications, its methods of use, and the specific precautions to take before its use.
The main ailments treated by the essential oil of Sandalwood:
Circulatory disorders (varicose veins, hemorrhoids, etc.)

Infections (respiratory, urinary, etc.)

Anxiety, stress, overwork

Inflammatory pain

Skin conditions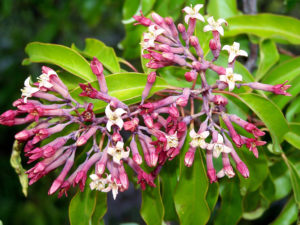 History of Sandalwood Essential Oil
Sandalwood Essential Oil has a long history. Extracted from white sandalwood, it was first used for its characteristic fragrance before being used for therapeutic purposes. Its production is currently regulated because the growing global demand for white sandalwood has been so great that it has caused massive deforestation. It should be noted that today there are other products sold under the name essential oil of Sandalwood: the essential oil of Yellow Sandalwood and the essential oil of Sandalwood Amyris. Be careful, these last two do not have the same properties and indications as White Sandalwood Essential Oil.
Properties of Sandalwood Essential Oil
Highly studied, the benefits of Sandalwood Essential Oil are due to the presence of several active ingredients.
Anti-infectious
Sandalwood Essential Oil contains several anti-infective compounds: monoterpene carbides and sesquiterpene alcohols. These substances possess antibacterial, antiviral, antifungal and antiparasitic activity.
Venous and lymphatic decongestant
Monoterpene carbides and sesquiterpene alcohols also have an action on blood circulation. Indeed, through different mechanisms of action, these substances facilitate the drainage of the venous network and the lymphatic system.
Anti-inflammatory
The sesquiterpene carbides present in this essential oil are also able to modulate inflammatory reactions.
Other properties
Spasmolytic

cardiotonic

Aquaretic

Healing

Astringent

Skin regenerator
Calming and relaxing
Present in the essential oil of Sandalwood, alpha-santalol helps soothe the body.
Other properties
Physical tonic

Aphrodisiac
Indications of Sandalwood Essential Oil
Due to its benefits for health and well-being, Essential Oil can be indicated in several cases.
Infections
Sandalwood Essential Oil can be used to treat various infections. It can be used in particular for the treatment of respiratory (bronchitis, etc.), urogenital (cystitis, prostatitis, etc.) and cutaneous (skin and nail fungus, etc.) infections.
Circulatory disorders
This essential oil is also used to fight against blood circulation problems, especially against varicose veins and hemorrhoids.
Joint and muscle pain
The anti-inflammatory activity of this essential oil can also be used to relieve certain joint and muscle pain.
Skin problems
Essential Oil is acclaimed for the preparation of certain cosmetic treatments. With astringent, healing and revitalizing properties, it can in particular be recommended for the care of dry or irritated skin, skin inflammation or itchy scalp. It can also be used to prevent the appearance of wrinkles or fine lines.
Other indications
Dry and irritating coughs

Heart fatigue
Stress, anxiety, overwork
Calming and relaxing, this essential oil is ideal for relieving symptoms related to stress, anxiety and overwork.
Other properties
Decreased libido

Latent or transient depression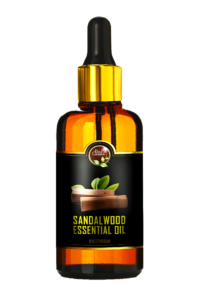 Use of Sandalwood Essential Oil
Essential Oil can be used in very different ways for a wide spectrum of conditions and symptoms. Nevertheless, in case of doubt, it is recommended to contact a professional in order to collect personalized and secure information, adapted to your medical situation, your profile and your age.
Cutaneous application, massage
Essential Oil can be used for skin application provided it is well diluted. This mode of use can for example be used in the event of:
Joint and muscle pain: Dilute the essential oil in vegetable oil then apply it to the painful area.

Circulatory disorders: Dilute the essential oil in vegetable oil then apply it in massage on the affected areas.

Skin problems: Dilute the essential oil in a vegetable oil or in a cosmetic cream then apply it to sensitive areas.
Precautions for use
Pure Sandalwood Essential Oil can be irritating to the skin. This is why it is essential to dilute it and carry out a tolerance test in the bend of the elbow before any skin application. In diffusion, specialists generally recommend using Sandalwood Essential Oil in low doses and for short periods. Finally, its oral use should only be done on the recommendation of a health professional.
Branding and Package Design of Essential Oil
Oriental Group provides a complete branding service for client wishing to penetrate their domestic markets using their very own Essential Oil Wholesale.
Bottling
We have many varieties of bottles and containers at our disposal, of course the client may supply their own, or can send us a sample for us to mass produce.
Labeling
The client can supply their own label or have one produced for them by our team of designers, we can design exactly to your specifications.
Casing
We can supply casing solutions to meet any specifications ranging from customized design cases, case printed designs and other custom requirements.
Please contact us with your requirements.
Further, you may please note that we have the strengths and capabilities to deliver the international quality of Essential Oil. Our additional strength to day is excellent logistic control system, which facilitates faster order processing and shipment. We have even automatized most of the production chain to ensure faster production and accuracy.
FAQ  Essential Oil:
How can I get some samples?
We are honoured to offer you samples. New clients are expected to pay for the courier cost, the samples are free for you, and this charge will be deducted from the payment for formal order.
Regarding the courier cost: You can arrange a RPI (remote pick-up) service upon FedEx, UPS, DHL, TNT, etc. To have the samples collected; or inform us your DHL collection account. Then you can pay the freight direct to your local carrier company.
How does your Sandalwood Essential Oil do regarding quality control?
Quality is priority! Every worker keeps the QC from the very beginning to the very end:
All raw material we used are environmental-friendly.
Skilful workers care every detail in handing the stamping, printing, stitching, packing process.
Quality control department especially responsible for quality checking in each process.
Can your factory print or emboss my logo on the goods?
Yes, we can print your logo on the goods or their packing box, for patent protection purpose, a letter of attorney (letter of authorization) shall be provided for the logo.
We usually produce goods based on customer's samples or based on customers' picture, logo, and sizes etc. detail information design for customers.
Company Information:
Oriental Group
N°200 Lot Elmassar, Z.I Sidi Ghanem
Route de Safi
40 000 Marrakech
MOROCCO
Tel: +212 524 335 449
MOB: +212 600 604 387 (Whatsapp / Viber)
Fax: +212 524 457 961
Website : https://www.bioprogreen.com/
E-mail : contact@group-oriental.com
FOLLOW US:
http://facebook.com/grouporiental
http://twitter.com/grouporiental