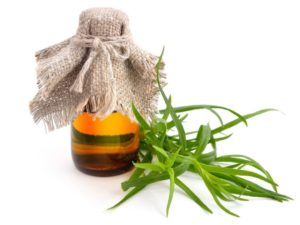 Tarragon Essential Oil is surprising in more ways than one. Very quickly, it will stop both a persistent hiccup, an attack of hives, or an attack of impromptu spasmophilia. Its anti-spasmodic and anti-allergic properties, as well as many others, are mainly due to its main compound, estragole.
However, it has an atypical toxicological profile and only an informed connoisseur will use it wisely.
It is preferable to use only the dermal route and to respect the precautions for use, the doses and of course the contraindications.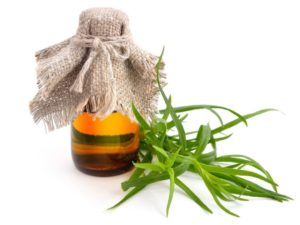 History of Tarragon Essential Oil   
Tarragon is native to central Asia, but it was known to the Greeks and Romans who used it to treat snakebites, toothache, plague, and cholera. It was not until the 15th century that it was introduced to the rest of Europe and became a medicinal plant cultivated in the gardens of monks, then an herb of choice for the great French chefs. We owe him, in particular, the Béarnaise sauce, the gribiche, and the tartare.
Despite everything, it remains an aromatic plant that is not widely used, mainly because of its difficulty in reproducing. Moreover, in the trade, one often finds a similar species, of easier culture, the "tarragon of Russia", much less tasty and which harms its reputation. Essential oil is obtained from it which is used in the manufacture of perfumes, liqueurs, soaps and cosmetic products, but also for medicinal purposes.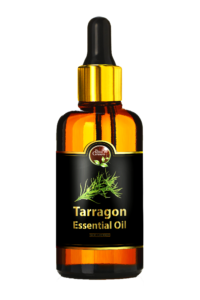 Properties of Tarragon Essential Oil   
When to use Tarragon Essential Oil?
Spasms of any type
Digestive spasms

Renal colic

Diarrhea

Gynecological pain,

Premenstrual pain

emotional spasm,

Spasmophilia

Intense localized pain

Neuritis

Sciatica

Lymphadenopathy

Joint pain

Hay fever

Itching, hives

Swollen bite

Depression

Chronic fatigue
Anti-spasmodic properties
On smooth muscles:
Smooth muscles are muscles located, for example, in blood vessels or in the intestines; these are muscles whose contraction we cannot knowingly control, but which can contract on their own and lead to situations of discomfort: digestive spasms for example.
Essential oils rich in methyl-chavicol, more commonly called estragole, are known for their spasmolytic effects: they in fact raise spasms of smooth muscle fibers in the intestines, the respiratory tract, and the urinary system.
Tarragon Essential Oil will therefore be a lifesaver to lift or reduce many spasmodic pains:
Premenstrual pain, dysmenorrhea

Digestive spasms, colitis

Renal colic

Spasmophilia crisis
On skeletal muscles
Skeletal muscles are the muscles located for example in the arms and the legs, muscles which one can knowingly contract.
The action of estragole on skeletal muscle fibers is more difficult to interpret both clinically and scientifically.
EOs rich in estragole would act at least at 2 different sites of action, and these actions would lead to opposite effects (relaxation and contraction).
From a therapeutic point of view, the use of Tarragon Essential Oil to lift muscle contractures is therefore delicate, and does not always allow the expected effects to be obtained, especially during muscle contractures, to relax the muscle. . Certain physiotherapists who use tarragon make this observation in any case.
We will note all the same its astonishing effect on the attacks of Hiccups.
Digestive disorders
Estragole provides an antispasmodic effect but does not reduce digestive tone.
Tarragon Essential Oil is therefore frequently mentioned to facilitate digestion, limit flatulence and aerophagia, reduce digestive spasms and colitis, whether of infectious origin or not.
Neurological pain
Painkiller and local anesthetic activity
Tarragon Essential Oil first of all has anti-inflammatory properties. In addition, it blocks painful nerve impulses, and thus provides a local anesthetic effect. Tarragon Essential Oil can therefore be used in the case of localized pain, for example during lymphadenopathy, neuritis, or sciatica.
Other indications
Hives and allergies
Tarragon Essential Oil has shown anti-allergic effects by direct antagonism on histamine and serotonin receptors: if we add to these anti-allergic effects its anti-inflammatory properties, Tarragon HE therefore makes it possible to reduce edema and other allergic manifestations such as hay fever or urticaria.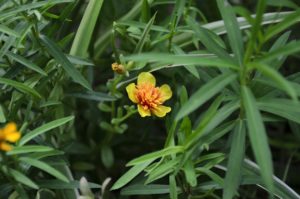 Precautions for use with Tarragon Essential Oil    
Tarragon Essential Oil is very similar to that of exotic Basil with more than 70% methylchavicol (estragole): their indications will therefore be similar. According to Michel Faucon, aromatologist pharmacist, the exotic Basil, in characterology, would rather correspond to the introverted individual, poet and dreamer; Tarragon to the angry individual, who has a grudge, and nervous tics.
Usage precautions
To be used preferably in short cures, Limit your care to 14 days maximum

Prefer low dilutions (1 to 2%, 5% maximum)

Essential oil not recommended for heavy smokers, people with liver problems

Essential oil not recommended in case of anticoagulant treatments or coagulation disorders
Branding and Package Design of Tarragon Essential Oil    
Oriental Group provides a complete branding service for clients wishing to penetrate their domestic markets using their very own Tarragon Essential Oil     Wholesale.
Bottling
We have many varieties of bottles and containers at our disposal, of course the client may supply their own, or can send us a sample for us to mass produce.
Labeling
The client can supply their own label or have one produced for them by our team of designers, we can design exactly to your specifications.
Casing
We can supply casing solutions to meet any specifications ranging from customized design cases, case printed designs and other custom requirements.
Please contact us with your requirements.
Further, you may please note that we have the strengths and capabilities to deliver international quality of Tarragon Essential Oil. Our additional strength to day is excellent logistic control system, which facilitates faster order processing and shipment. We have even automatized most of the production chain to ensure faster production and accuracy.
FAQ Tarragon Essential Oil:
How can I get some samples?
We are honoured to offer you samples. New clients are expected to pay for the courier cost, the samples are free for you, and this charge will be deducted from the payment for formal order.
Regarding the courier cost: You can arrange a RPI (remote pick-up) service upon FedEx, UPS, DHL, TNT, etc. To have the samples collected; or inform us your DHL collection account. Then you can pay the freight direct to your local carrier company.
How does your Tarragon Essential Oil do regarding quality control?
Quality is priority! Every worker keeps the QC from the very beginning to the very end:
All raw material we used are environmental-friendly.
Skilful workers care every detail in handing the stamping, printing, stitching, packing process.
Quality control department especially responsible for quality checking in each process.
Can your factory print or emboss my logo on the goods?
Yes, we can print your logo on the goods or their packing box, for patent protection purpose, a letter of attorney (letter of authorization) shall be provided for the logo.
We usually produce goods based on customer's samples or based on customers' picture, logo, and sizes etc. detail information design for customers.
Company Information:
Oriental Group
N°200 Lot Elmassar, Z.I Sidi Ghanem
Route de Safi
40 000 Marrakech
MOROCCO
Tel: +212 524 335 449
MOB: +212 600 604 387 (Whatsapp / Viber)
Fax: +212 524 457 961
Website: https://www.bioprogreen.com/
E-mail : contact@group-oriental.com
FOLLOW US:
http://facebook.com/grouporiental